It is not easy to be a short guy. Truth be told, you are not only getting beaten by jokes about your size, you are genuinely having troubles coping with real life as a short guy.
Take shopping for example. You need to buy a new shirt, and what seems like the simplest task for most guys, for short men, things are way different. Shirts for short men need to be "special" in a way. You need to find the right proportions, make sure the shirt is slim fit, and pay extra attention to details. And you need all of that so you can achieve streamlined look. Buy the wrong shirt, and you'll look like a clown.
Anyone south of 5'6" should pay attention to some tips and guidelines for shopping shirts for short men. And while I am not some true believer in "strict rules", I do think that implementing some guidelines and tips can help you. Here we go.
Watch the Size
Now, when I say pay attention to the size, I am not talking only about the general labeling sizes like "s" and "xs". What I mean you need to watch the size of the shirt. Sometimes, you'll find that even a shirt size "s" won't do the trick for you.
Short guys and short men have different proportions, and just buying size "s" doesn't help. One thing that can help is looking at the origin of the shirt. In other words, look for brands that manufacture shirts for countries like Japan, Italy, or brands coming out of those countries. Japan, Italy and similar countries manufacture for short guys because their male population is usually shorter than 5'9".
Small sizes from brands coming out of Japan and Italy are more likely to fit your proportions, than a brand coming from the United States, for example.
Also pay attention on the 'cut' of the shirt. Try them to make sure they fit you well. Cuts like
Slim fit
Stretch fit
Loose fit
Tapered cut
and more
Don't Underestimate the Youth Section
Speaking of sizes, I genuinely advice you to always check the youth section in department stores. Two things to have in mind. First, and foremost, the youth section caters to people that are five feet and up to six feet. Second, and also important, you'll notice that sometimes the kid section has more options and choices in colors, patterns and so on. Adult stores usually want to keep things formal, business like, but the youth sections offers much more options.
Tailor Made
Nothing makes you look worse than a shirt that doesn't suit your proportions.
For those that can afford buying tailor made shirts. Do it! I've tailored made clothes in real life and online. They both work really really really well!
It will change your life.
In fact, I recommend Modern Tailor. They are affordable, great quality, and ships QUICK. I got mine in one WEEK and they fit soooo perfectly. You can read my full Modern Tailor review here.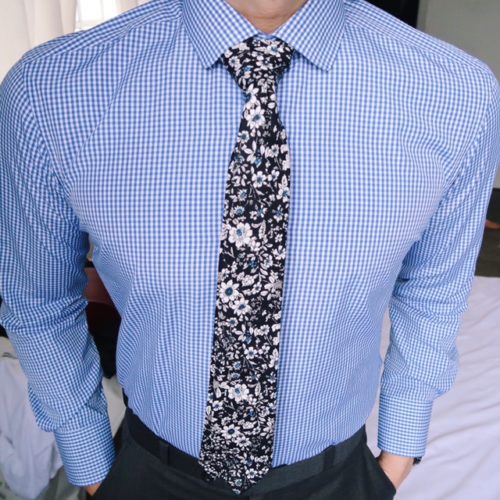 Pro short men tip: No matter if you are looking for shirts for short men or suits for short men, you are either going monochromatic, or vertical patterns.
Wearing vertically-oriented patterns is a good advice for every piece of clothing in a short guy's wardrobe. The best option here is candystripe patterns. They are easy and simple, and you can wear them with every suit or jeans.
Patterns Don'ts
I wanted to give you a specific paragraph of not to do with patterns. For starters, never go with large patterns, always stay small. No matter if you are wearing stripes, checks, or gingham, make sure that the patterns are small.
Don't wear varying colors of patterns. A taller guy can get away with a shirt in three or four colors of patterns, but you cannot. Simple and thin stripes is the way to go if you want to look elegant and streamlined.
Narrow Collar
Same as with every other detail on your shirt, you want to keep things simple and minimal. When it comes to collars, and collar styles, you want narrow collar that will keep the eye of the viewer traveling up toward your face. On the other hand, broad and spread collars will stop the eye of the viewer and your neck, which essentially harms your streamlined look.
Also remember, when you are wearing a necktie, you want a narrower knot, just as you like narrow collar.
The Details
Nowadays, finding a simple shirt has become a mission impossible. It seems as everywhere you look, shirts tend to have a breast pocket or some other detail on them.
As a short guy, you want to avoid unnecessary details and keep things simple. A breast pocket is all right, but if you can avoid it, even better. But if there is a breast pocket, make sure it is just one. Also, if there absolutely must be a breast pocket, try not to have any monogramming, hemming or decorative stitching on it.
Other accessories, such as ties, belts and watches should be narrow and small.
Tuck it in
Last, but not least, shirts for short men should always be tucked in. You cannot get away with loose shirttails, no matter if it is a casual event or a formal dinner. If you don't tuck your shirt in, your legs will look shorter, and you'll look even shorter than you are.