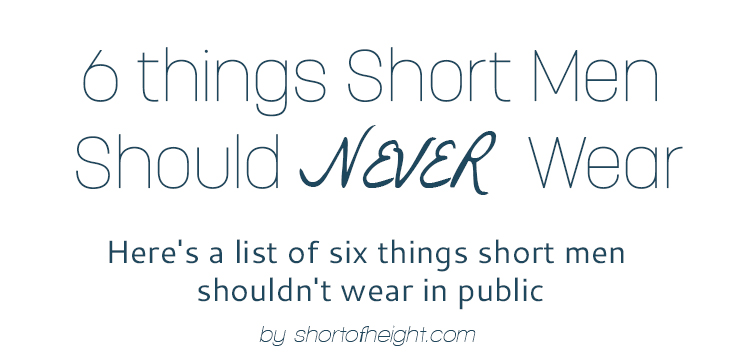 Are you really 5'4?

Do you photoshop your pictures?
Those are some common questions I get on my Instagram.
YES, I am 5'4, and no I don't use any photoshop or editing software to make myself look taller.
Do you want to know my secret to 'look taller' in my pictures?
I don't wear these six things in public.
What are they?
1. Avoid Horizontal shirts
I do feel only tall and thin people are suitable to wear horizontal shirts. Horizontal shirts are the worst for short people. Short men should only go for vertical clothes because of it gives that flow of the lines going from up to down.
It makes us slim too! Winning!
Unless you're wearing a coat or blazer outside, then you wear horizontal lines shirt because it will 'break' the lines or cover half of them.
2. Avoid Pointy shoes
Pointy shoes aren't fashionable, and they aren't suitable for short men. It just makes our feet look too long giving that weird ratio of big feet and short body. People will keep staring at our feet.
3. Avoid Large design tops
Large design tops aren't suitable because they give a relative comparison our height to the design.
The design will look bigger giving away our height. It's all about relative proportion.
That is why I prefer to go for simple plain t-shirts.
Try to avoid this as much as you can. Having said that, it's okay to go with designs every once in awhile to spice up your look.
4. Avoid Large proportion clothes
Large proportion clothes are suitable for taller men. When a shorter man wears it, it looks like we're wearing clothes that are four sizes wrong.
It makes us look like babies wearing our dad's shirts.
5. Avoid Off the rack suits
Unless you're the average Joe, off the rack suits will never fit you. Something will go wrong. Either the shoulders are too broad, it's too long, long sleeves, etc.
It will never fit short men. I've tried every suit in every store that I've been, and nothing fits.
6. Avoid Non hemmed pants
One of the best tricks to look taller is to hem your pants. A non-hemmed pant is a giveaway to your height. People will look down and noticed that your pants don't fit you. We want that smooth flow from top to bottom.
Be sure to hem your pants. If not, make sure you fold your pants and show a little ankle to give a taller appearance.
Bonus tip:
Since you made it here. Here's a bonus tip, one trick to looking taller in photos or real life is to avoid standing beside someone that is taller than you.
I'm sure you've seen a guy in the gym where you thought was muscular. But, when he stands beside someone who's, even more muscular, he looks thin! The same rule applies.
Where to buy your clothes?
A great place to get your clothes would be Peter Manning NYC
. They have many clothes that will fit short men. Another would be to tailor made clothes. For that, I recommend Modern Tailor. I've made multiple dress shirts from them and I love them.
Summing up:
I made this easy to follow infographic to give you a visual idea of what you should avoid in public.