Short men aren't attractive.
Yup! That's what I've read many times and have been told many times.
Real beauty comes from beneath the skin….. Unfortunately, this rule doesn't apply to all of us.
Here's the thing, people has a perception on:
Good looks
Health
Success
etc
We all like different things. Some people prefer watching comedies; some prefer horrors.
Some women just prefer tall men. That's okay! We all know shorter men make a better husband right?
The good news is. Some women do think short men are attractive too. Just think:
Tom Cruise
Daniel
Kevin Hart
Prince
Bruno Mars
Seth Green
Dustin Hoffman
Josh Hutcherson
I can go on and on! I can even list you a list of 200 short actors and celebrities. Don't believe me? I'll do just that in the future.
Nevertheless, you shouldn't give up on yourself AND your looks just because you're short. I know I've been there. It's tough!
It's not the end though, why? Because you're worth it.
Today, I want to discuss six ways on how we as short men can look more attractive.
6 Ways Short Men Can Look More Attractive
1. Wear fitted clothes:
I said it alright. It's the clothes makes the man.
Not just ANY clothes. A good fitted clothes that compliment your body. That is the only way it can enhance YOUR looks.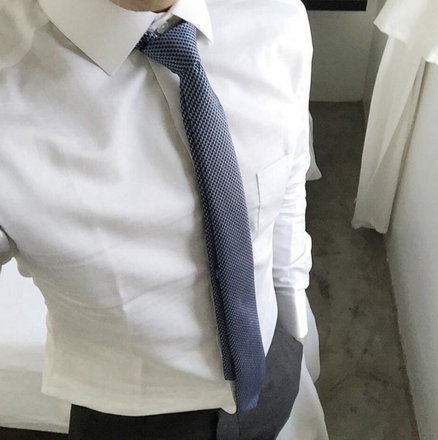 A well-dressed man is always a treat to watch. While it's hard for short men to find the right size of clothing that fits them, it's not impossible. You just have to constantly experiment with different sizes and cuts.
Alternatively, you can custom tailor your clothes. In many countries in Asia, it's not very expensive to do so. Tailors can ensure that the clothes fit your body properly. This will make you attractive. Trust me. Once you do that, you'll never turn back again.
You can read more about style for short men here.
2. Groom your hair perfectly:
A scruffy look can damage your handsome FACE!
You should ALWAYS groom your hair perfectly. Here's one rule you need to remember. You should always comb your hair neatly and trim your beards and mustache.
Remember this; a clean-shaven is always more attractive on a short man. Nevertheless, there are handsome men with beards too.
If you're just going out for less than an hour or two. Just wear a CAP! You can wear a cap if you're just going to the movies, and you don't feel like doing your hair. It's fine!
3. Enhance your arms
Do you even lift bro?
You should.
According to one survey,  the sexiest body parts according to women is…. ARMS!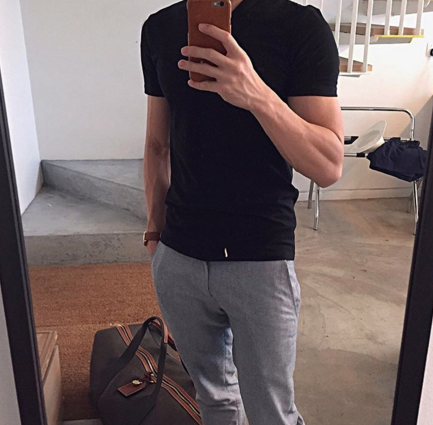 Yes, you read that right. ARMS! They didn't say nothing about legs at all. So I guess it's fine if you don't squat at all.
Here's the good news. It's easy to give your arms some pump. All you need is a pair of dumbbells are you're good to go.
4. Lose some body fat %
Short men need to workout. Since we're short, we can have the same body fat as someone who is taller but we'll look WAYYYYY fatter than them. The worst part is, we will look even short. DAMMIT.
I know! I've been there. People who were taller used to make fun of me. They called me fat, stunted, short, etc.
Instead of allowing that to get to me, I used it as my motivation to start a healthier lifestyle.
Today I workout at least 30 minutes a day and I keep my meals in moderation. I make sure I'm eating healthier and eating TOO MUCH. Since then I've lost over 30 lbs! WOOHOO!
Now my friends stop making fun of me. Instead, they want to know how I did it.
You can do it too. Don't allow anyone to get to your head.
5. Wear monochromatic colors
If you follow my posts, I share this quite a lot. The main aim is to streamline the look. Looking taller is all about that streamline look and monochromatic colors or single shade colors can help. The reason it does is because it won't have any 'breakage' in color that will break that tall look that we're after.
This help to make you look taller. Since women prefer taller men, it can give you a little edge.
6. Accessorize yourself
Take advantage of accessories. I feel accessories can make you go from hello to WHOAAAAAAA.
That's just my opinion.
I think accessories make you look more TRENDY. Hense making you look more attractive. I wasn't a believer at first, but I was open to it. Now I don't go out without a watch.
Here are some ideas on what you should get:
Watch: While you don't need to go too crazy, a simple Daniel Wellington watch or Leonard & Church can change the way you look a lot. It makes you look more trendy
Bracelet: Gentlemen's wear bracelet. If they do, why shouldn't we? We all should.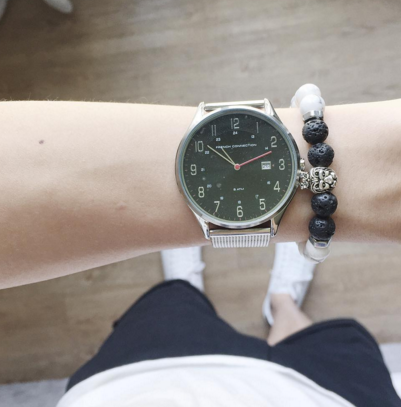 Summing up:
Height shouldn't be an excuse for shorter men not to look more attractive.I used to have the same thinking. Short men can look more attractive.
As a matter of fact, I never really cared about styles or fashion at all. I would just shop ONCE a year and just buy my clothes in batches. Sometimes I'm so lazy; I'll just tell my mom what I want and ask her to get clothes for me instead of me going out.
Since then, I've changed quite a bit. Today I'm getting tons of compliments for people who love my style and is looking forward to changing their style too. I'm just happy to hear that.