If you have read my blog about on dressing taller for short men, one of the tips I shared was not to wear distressed or ripped jeans.
It was a basic rule because the ripped part of the jeans will 'eliminated' that flow looks that we want.
Flow tricks the eye into making you look taller because it doesn't have any distractions that are caused by ripped or distressed jeans.
Having said that, recently I decided to purchase ripped jeans for myself.
YES! you read that right.
I broke the rule that we all know we shouldn't.
Having said that, the jeans fit me perfectly.
How is that possible?
Here's the secret sauce that we all short men we try ONCE in our lifetime.
BUY WOMEN'S JEANS!
YES!
A few weeks ago I was traveling in South Korea with my girlfriend. While she was shopping for clothes, I stood beside her (because that is what a real boyfriend does) and flipped upon hangers and hangers of different jeans for her.
Then I saw this beautiful looking ripped jeans that looked pretty nice. It was stretchy, and it wasn't too tight or loose. The ripped wasn't too much as well, so it was good.
I showed my girlfriend and told her that look good. We all know she's not a fan of ripped jeans on men. Then she said, that looks good! Why don't you buy it?
I was like… huh? Seriously?
She was like yeah. It will look good on you.
Wait a minute, didn't she hate ripped jeans on short men? I asked her that.
She went on to say that the fit looks good; it wasn't long, and it was on sale. How much? Let's say $10!! YES, $10!!!!!
I was like okay! And I bought it.
Oh, I didn't try it because some parts of Asia separates women's changing room and men. Since this was a women's store, they don't allow men to be inside too to respect the privacy of women.
For the first time in my entire adulthood, I got so excited over a purchase.
We got back to our Airbnb, and I put it on right away.
and…..
Seriously.
The fit was AMAZING!
It fitted me perfectly like it was made for this short guy who's 5'4.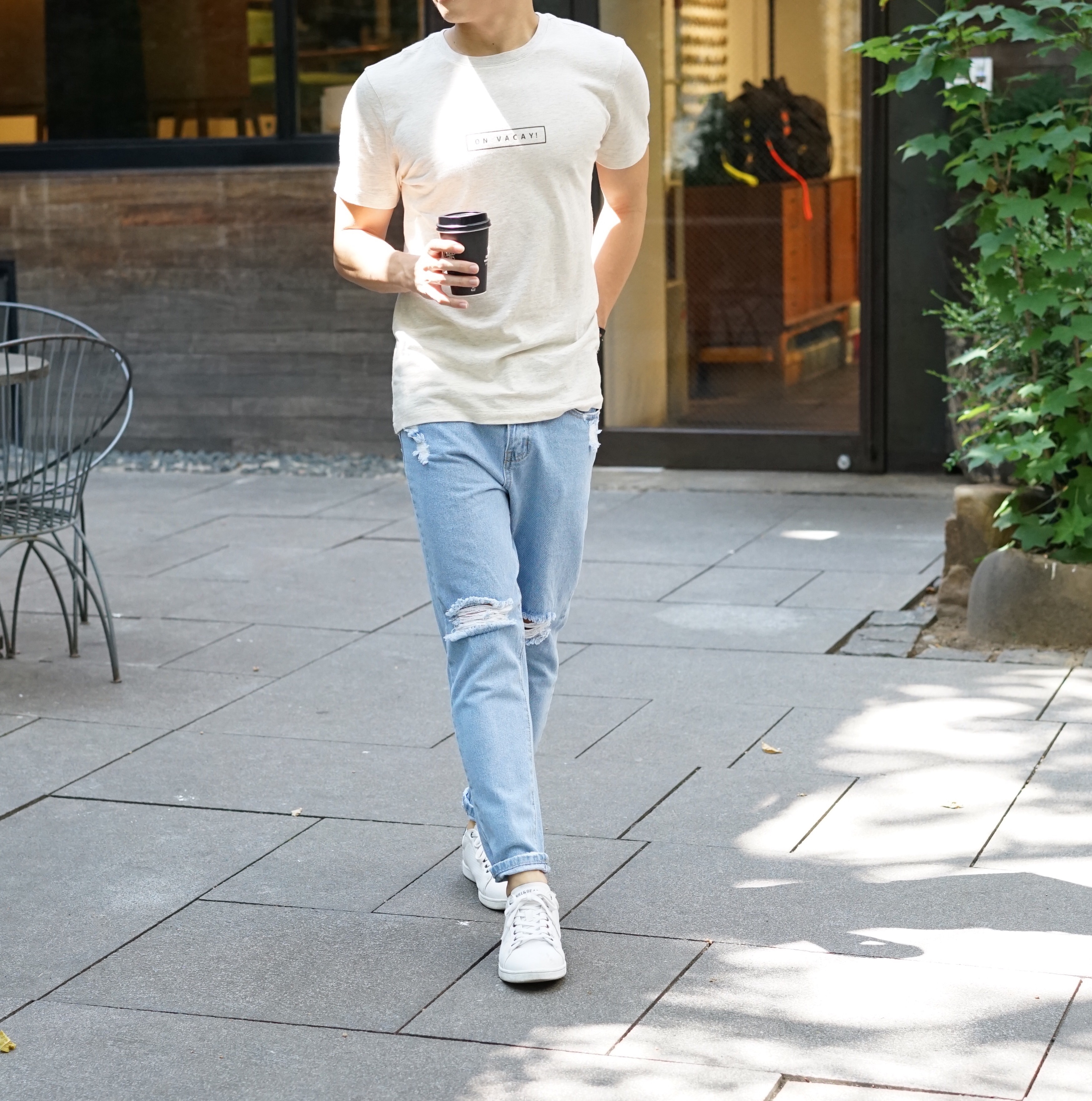 Since this happened, I posted on my social media and I found out there are short men out there who've purchased in women's section too.
So, for you shorties out there. Do know that it's NOT as weird as we thought.
In fact, it's pretty common.
Having said that, if you're afraid of browsing through women's jeans in front of other women. Have your girlfriend accompany you to the store. Flipped it beside her. It may be a fun shopping experience for you after all.
Next time, you won't be the one asking her if she's done looking at clothes. In fact, she'll be the one asking you that question.
I'm just kidding.
Here's the photo of the ripped jeans closed up: