Want an unbiased Peter Manning review?
Have you heard of Peter Manning?
You've not? Well, Peter Manning NYC makes clothes for short men that under 5'8″.
Well, Peter Manning NYC makes clothes for short men that under 5'8″.
YES! when I heard about it, it was music to my ears!
Guess what? I purchase pants from them. Today, I'm planning to review Peter Manning's pants. I got their 5-Pocket Hampton Pant for only $49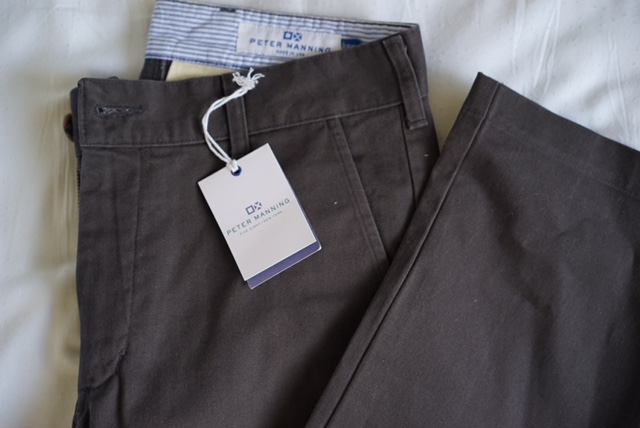 You see , for someone who is just 5'4″. I'm always looking for pants that fit me. The search is nearly impossible for me. AHHH! Unlike shirt where I can just tuck the access in, I always need to alter the pants.
Seriously, short men are at a disadvantage when looking for the PERFECT pants. The shortest inseam pants for men are 30 inches inseam. That's okay if you're 5'9.
Many of us can't fit in that. I mean, we can wear it, but it's just too long for us. I'm sure you have this problem too. Pants are simply too long for us!
When searching for clothes for short men, Peter Manning's store regularly showed up on Google.
Unfortunately, they don't ship to Malaysia, which is just too bad. Otherwise, I would purchase sooner and try to solve my quest to search for the perfect pants. They do ship to neighbouring countries around me such as
Singapore
Hong Kong
Indonesia
Japan
Australia
Philippines
& more
Not to Malaysia though, I didn't give up! Nooooooo! that's not like me. I even emailed them to ask.
I also subscribed to Peter Manning's newsletter to read about clothes updates, fashion stuff and so on.
Then, a few months ago, Peter Manning had a sale. Their sales were too hard to resist, so I decided to try it. Since Peter Manning doesn't deliver. I used a 3rd party forwarder to send it to me instead.
What did I have to lose right?
So, if you're thinking about purchasing something from Peter Manning, look no further.
Here's my Peter Manning Review (pants only)
Okay! For my quest to find the perfect pants ever, I'm going to outline a few things I look for in my search for the 'perfect pants everrrrr'
For me, the perfect pants needs has to pass these criteria:
Right Inseam
Awesome Comfort
Good Price
Amazing Quality
Great Fit
I will rate each criteria with icons and give it up to five icons in total.
Peter Manning Review
1. Inseam
The problem. Most stores offer 30 inches inseam. Peter Manning has inseam up to 26 inches!
When searching for good pants, I like to find one that has the right fit off the rack. I'm not a fan of getting pants, seeing I don't fit it in and getting my tailor to hem the pants. It's just too much work.
The good news is, I won't need to do all of those For Peter Manning! I went with the 28 inches inseam. That is what I usually get if I can find it.
Since they have pants inseams that go up to 26 inches and it matches with my height perfectly, I'm giving it a FIVE!
2. Comfort
I want pants that I can wear anywhere and everywhere. Seriously speaking, Peter Manning's pants is comfy! It's like the pants were made of out clouds
The material feels expensive and the soft material touches my booty just fine. I can wear this all day long.
Peter Manning's pants will definitely go into my travel pants which only a few has made it so far.
How many stars? About 4.5!
3. Price:
This part comes in two.
For the original price, the price for the clothes on Peter Manning is higher than what I usually get if I were to compare it to clothes like Gap, Zara, Uniqlo, etc
No sales
Unless it's on sale, the price is just too high for my liking. Their normal price is $89 for a pair of pants. Usually, pants I get from Gap are lesser than by half. Even better if those stores were on sale too.
Sales
Even with sales, the price is around what I usually get from my favorite stores.
I do understand why they need to price it higher. Since they have more skews, they need to do this to maximize profit from unsold inventories. With all this in mind, it's getting 3 stars.
4. Quality
Without a doubt, the quality of the pants is top notch. It has similar pants with quality pants that I got from Zara.
These pants were made with love and.
I'm quickly giving this a 4.5!
5. Fit
The last part of the quest for the perfect pants is the fit. This is one of the most important factors when considering good pants. For me, I got the slim fit pants.
Unfortunately, the fit isn't to my liking. I chose 28 inches slim fit, but I find the fit quite baggy for my personal taste. It's a tad big at my booty area as well as my legs.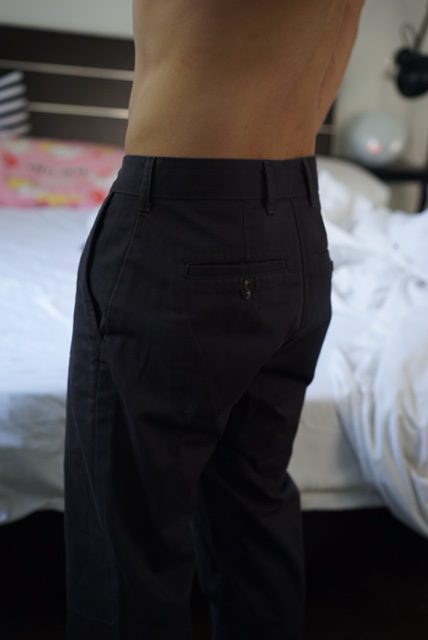 I think the reason is the 28 inches that I usually wear and used to is quite different from Peter Mannings.
Here's a comparison of my pants I got from Zara size US29 vs. Peter Mannings 28 inches waist. I find the PM's pants a half and inch bigger than what I usually wear.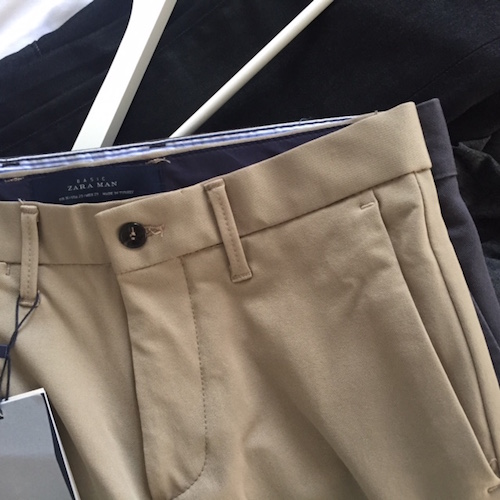 Having said that, I do feel like I could probably fit in a 27 inches waist x 27/28 inseam. I think that would be a better fit for my body and most importantly accentuate my booty better.
I'm giving this 3 stars.
Summing up my Peter Manning review:
Total: 20/25
That concludes my Peter Manning review. 20/25.
Overall, it was a great experience shopping at Peter Manning. Since I'm based in Malaysia, the price to ship these clothes to me would cost a lot with a third party shipper unless I purchase in bulk or buy multiple items at a Peter Manning or other places together.
I definitely won't think twice when they have sales. That would even out what I need to pay to get it shipped to me. If you're based in the United States, you definitely won't need to think twice about purchasing from them. I did a random search and found shipping rates to countries that they do ship are pretty affordable too. I tried to ship to Singapore, and this was the price that was given to me during checkout.
Not too bad!
With the exchange and free returns, Peter Manning is definitely an ideal place to shop for short men.
If you find the clothes doesn't fit you, all you have to do is return them and get a better size. You can't beat a deal like that.
So, what are you waiting for?
Blog contains affiliate links