Men's Fashion Week 2017 showcased strong looks, but nothing surpassed Gucci, Haider Ackerman and Topman Design's blush themed catwalks with striking pink suits paired with velvet smoking slippers or tan brogues and embroidered shirt collars.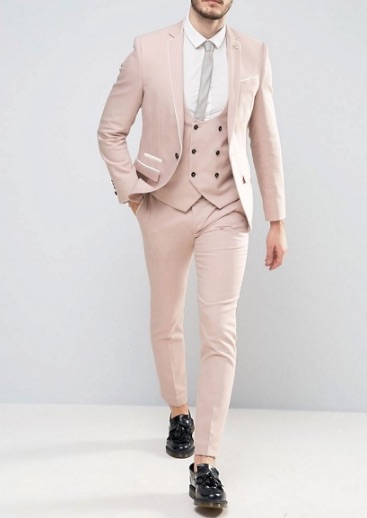 It's a colour ebbing into the androgynous sphere of fashion and one to incorporate into your SS17 wardrobe – but you don't need to dress head to toe in the shade.
Pink and leather
Pink in men's fashion is a colour usually reserved for preppier dressers but it's easier than ever to introduce it to your wardrobe with a little edge. Grab a couple of men's t-shirts in a pink shade and team one with your usual skinny jeans and low rise trainers – a leather jacket can be thrown on top and adds a little grit when placed against the colour.  
Embroidered hues
Embroidered roses and flowers can be easily added to denim jackets and the back of leather coats to increase interest and introduce the colour to everyday looks. Mix these more feminine embellishments with bold coloured patches and pins, which can feature everything from band logos to indie designer illustrations. Personalised looks are proving just as popular as androgynous shades, so get busy embellishing your fave jacket.
Peekaboo pink
A very easy way to add a touch of pink to your wardrobe is with socks, so wear these with ankle grazing trousers and allow them to just peek out from under the hem. Pair with sliders or fashion trainers for laidback, fashion forward style.
Pleated pink
Tailored trousers in a dusky pink shade are ideal for pairing with a crisp short sleeved, white shirt and slip on boat shoes, wear this to the office or to that summer wedding for an effortlessly chic ensemble. Leave the tie at home and keep things erring on the side of casual.
Tie it up
A tie is one of the easiest accessories to add to a shirt and trousers combo, pick up one in a pink hue to add a little interest to a smarter outfit. A hot pink tie with a white shirt and tan chinos is a preppier look, ideal for summer evenings while a baby pink shade works with a pale blue shirt and black trousers.
Straight laced
Laces are easy to change to mix up your look, swap dull white laces in your fashion trainers for subtle pink ones if you're looking to introduce the colour slowly into your everyday outfits.
Pink is going to prove popular this summer, so adopt some of these tips and embrace every shade, from blush to hot pink, in a variety of ways.