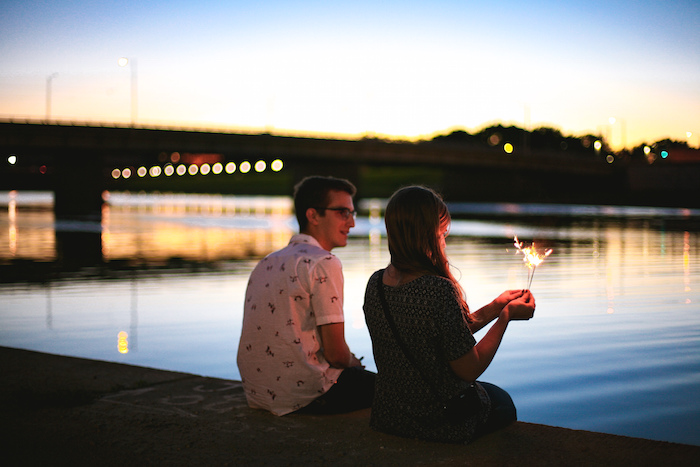 There are so many dating apps popping up these days.
Honestly, I can't keep up. Not that I need one of course.
Thank god I didn't need one when I dated my current girlfriend. We've been dating for more than nine years. I call that success, all thanks to our first date.
I thought I'd share my dating rules on the things guy should do on their first date.
Let's start.
First Date Tips for Men (The Gentleman Way)
1. Plan it.
If you're serious. Plan it.
Since you asked her out, already have a place and date ready in mind. Decide early on. Let her know the venue and time. It will also be a good idea to ask if she's comfortable with that.
Trust me she will appreciate your decisiveness.
2. Dress up.
Why look dull when you can look stunning? There's no need to wear a suit, but it wouldn't hurt to throw on a leather jacket or a nice casual blazer (depending on where you're going). You can't go wrong with a tailored dress shirt too.
3. Don't be late
NEVER be late. Always plan ahead and be there 15-30 minutes earlier. I was 30 minutes early for my first date. In fact, I just wondered around and arrived 10 minutes before the date.
4. Pick her up
Pick her up from her house or at least offer to pick her up from her house. If she says she is okay, you can either offer to meet her at where she's dropping off.
Don't meet her at the restaurant unless if she insists.
5. Make a reservation
Since it's your first date, making a reservation beforehand shows that you made an effort. She'll love that.
6. Open doors for her
Open the door for her and let her through first. Remember. You're a gentleman. I've been opening the door for my girlfriend for nine years now. 😛
7. Be attentive.
Give her all your attention. Pay attention to her, leave your phone in your pocket.
Ask great questions, listen, nod your head, and smile.
8.. Get the bill
Take care of the bill without comment, because you're a gentleman.
9. Offer to send her home
Just like how you got there, offer to send her home. If by any reasons she doesn't want that, then offer to drop her where you met her.
According to my girl, she feels it is good to hear a date who offers.
10. Don't wait.
If the date went well, and you're interested in her, don't wait or follow any dumb rule.
You can either be straight forward or let her know that you enjoyed your evening, and you would hope to see her again. If you don't want to say that to her right away, wait til you get back home and text her.
If you feel she enjoyed your company, then set a date or set a rough next. "sometime next week."
If you don't, they would just assume you're not interested, and they will move on.
Summing up:
I hope you found this first date tips for men useful. Don't forget to Be YOU on your best behavior 😉