Should you wear elevator shoes or height increasing shoes to look taller?
These shoes have been around for quite a while.
Some people know about it, some people don't.
If you don't know anything about it, don't worry. In this blog post. We'll cover every single thing you know about these shoes or some might call it….. shoes that make men taller.
Everything you need to know about elevator shoes
First, what are elevator shoes?
Elevator shoes are also known as lift shoes or height increasing shoes. In short (no pun intended), they are shoes that make you look taller. With one glance, elevator shoes appear just like any other shoes for men. However, if you look closely, you'll notice some differences.
What are the minor differences?
On the outside of the shoe, you'll noticed:
The shoes have a larger 'bulge.'
It looks slightly bigger or taller
The main difference is what's inside of the shoe.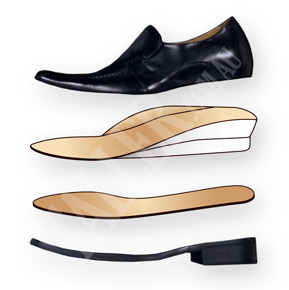 Inside the elevator shoe you'll find a raised platform that gives the person wearing it the appearance of being taller. This is what causes the bulge to appear.
How much height will elevator shoes add?
Different shoes will add different height. The shoes usually add from 2.8 inches to 5 inches to a person's height.
What do people think about height increasing shoes?
There is a saying that a man's elevator shoes is the equivalent of a woman's push up bra. YES! I once saw that discussed in forums like bodybuilding.com
Many people don't like the idea of elevator shoes. According to them, wearing these type of shoes means you're lying about your height. When wearing these shoes, it means you're 'lying' to the world about the 'real' you.
What do I think about these shoes?
Bleeehhh! I say screw it! I support height increasing shoes!
People will judge you no matter what. You might as well feel more confident while being judged.
After all, it's YOU wearing it. NOT THEM. If you want to wear elevator shoes to make you look taller, then do it.
Elevator shoes have come a long way since it first started selling. Think of it like mobile phones. The first few height increasing shoes were bulky and ugly just like those big bulky phones you used to have.
Today, elevator shoes are more refined. Just like an iPhone.
How do I know? Well, that's because I own a few of them. I'm not shy to admit that I own my pair of elevator shoes.
Here I am wearing it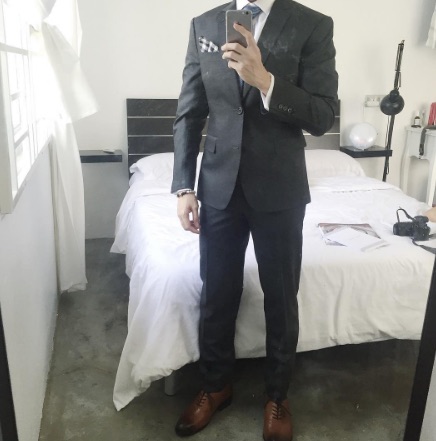 My girlfriend made fun of me when I got it. However, when I wore it, she said I looked GREAT in it and TALLER.
It was so hard for her to admit she was wrong since she imagined it to be bulky and ugly.
The shoes I got was refined, trendy and most importantly its leather build is very comfortable. She was impressed. I changed her mind about it.
Here's why I like elevator shoes and why you should consider getting one.
Elevator Shoes Makes YOU taller: I don't need to elaborate on this. It can add up to 5 inches  to your height.
Increases your confidence: Okay, when I wear these shoes, it makes me feel more confident. According to science, what you wear can have a direct impact on your confidence. I feel different. It's like I'm 'Superman'. Even if it's just basic psychology, I'll take it. I feel like I walk differently with these shoes.
You 'look' more attractive: Technically, while I don't feel like I look more attractive per se, tall men tend to look more attractive. According to an article on Time, studies has shown that people with shorter-than-average legs were viewed as being less attractive than people with slightly longer legs. So… technically, you and I will look more attractive when we're wearing lift shoes. Not so bad after all huh?
Do people even wear elevator shoes?
I'm not the only one who thinks elevator shoes are cool. Even celebrities wear them. Who you may ask?
Robert Downey Jr.! If you don't know, Downey is only 5'9″, and he is a fan of wedges.
I'm sure many more celebrities wear these shoes during red carpet events when their partners are wearing heels. They include:
If you ask me, I think wearing elevator shoes has its time and place.
Here are a couple of scenarios when you should consider.
Special events: If you have a special event that you'll be attending such as a wedding or a party, chances are you're going to be with your partner. They are also likely going to wear heels on that day. As I mentioned, most celebrities tend to wear these shoes during important public events such as the Grammy's, Oscars or any relevant red carpet events that they attend.
Important meetings: Going to pitch for your LIFE? Wear an elevator shoe to give you an extra confidence edge. Whether you like it or not, you are judged by your appearance. If you don't already know, taller people are perceived to be more intelligent and powerful. Many research and studies have proven this It's sad; trust me, at 5'4″. I know how that feels, but it's a fact whether you like it or not. For now, there's nothing you can do other than to get a pair of elevator shoes.
Anytime you need a boost of CONFIDENCE: If you're heading out to an important date with that special girl and you want to look spectacular, you can honestly consider wearing one of these shoes.
Are these shoes good for daily use?
Yes, elevator shoes are suitable for daily use. As long as you're just using it to WALK or STAND.
If you're looking to wear it for sports, I definitely won't recommend it.
Since the inner sole of the shoes is raised, it is like wearing a hidden heel. So, if you're looking to use it for sports or running, you may end up with a swollen ankle.
However, if you're using it for a photo shoot, walking, standing, parties, social functions or just using it for work or anything that doesn't involve any strenuous movements, by all means, feel free to wear one.
Where to buy elevator shoes?
There are several places you can buy them. I'll recommend you these places.
I love Guidomaggi's elevator shoes! In fact, I own FIVE pairs of them! they really are spectacular shoes that make you look taller and great at the same time.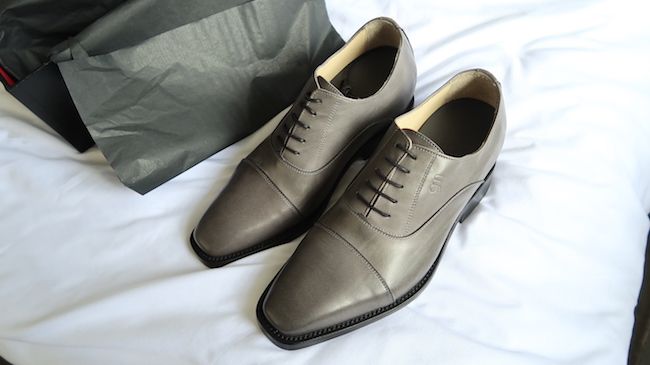 Don's Footwear has really good height increasing shoes.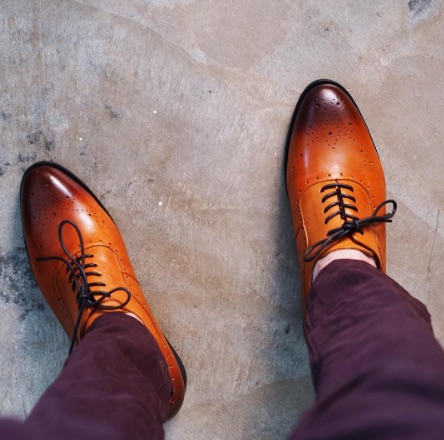 I got my first pair of elevator shoes here. It was a great experience. In fact, I got my shoes delivered to me in Malaysia in less than two weeks.
I will vouch for them. The quality is amazing, and their support was fantastic as well. I was hesitant about the size, so I got in touch with their support team and I got someone to help me measure the shoes. I followed their advice, and the shoes fit marvelously!
Here are some of their designs.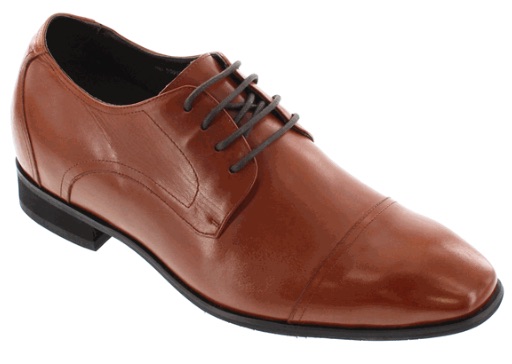 While I've not tried Tall Men Shoes yet, they do have some great designs that you can consider. When searching for elevator shoes, this website often pops up.
Since they have an offline store, you can definitely try them out to get a feel of these type of shoes.
Here's a couple of reviews I took from their yelp page.
Occasionally I will need a little "lift", especially when S.O. wears super high heels lol. And Tall Men Shoes always has an awesome collection to choose from. I highly recommend it!"

I have been a satisfied customer for over four years. The shoes have great quality and the prices are reasonable. I love to surprise my boyfriend with the latest fashion shoe from Tall Man Shoes (he has 7 pairs so far)."
How much do elevator shoes cost?
It depends on the quality and the type of shoes. I've seen elevator shoes that were cheaper than ordinary shoes. Those were ugly and probably designs that were from the early 2000s.
Elevator shoes typically cost like what you would get for a good quality ordinary shoe. They won't empty your bank for sure.
Price for elevator shoes ranges from $60-$120. A good pair can cost up to $200.
How do I know what elevator shoes to choose?
Let me first start by showing you the type of shoes you shouldn't be getting.
Let me first say that this is a big no-no. What to avoid: No one should wear shoes that add height while bulking up their feet. Those are POOR quality shoes that trades style for the height. Don't compromise your style for added height.
So remember this. Bulky = NO!
What do bulky shoes look like? This!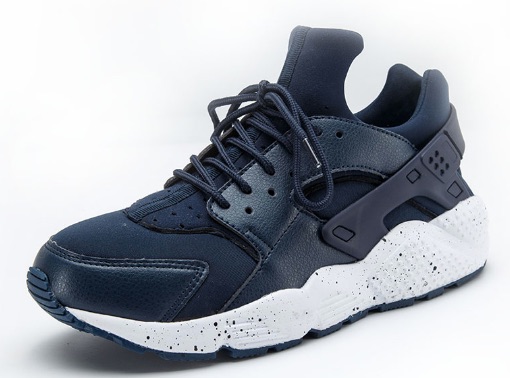 You know the shoes that Robert Downey Jr. tend to wear? Those are wedges, and I don't think it's suitable for short men. Even my girlfriend agrees, and we don't tend to agree often. You may be able to pull it off if you're below 18. However, if you're a young gentleman, those type of shoes aren't suitable for you.
So what elevator shoes should you choose?
Well, the shoes you want should just be like any other shoes you buy. It's that simple. Height is just the 'added' advantage.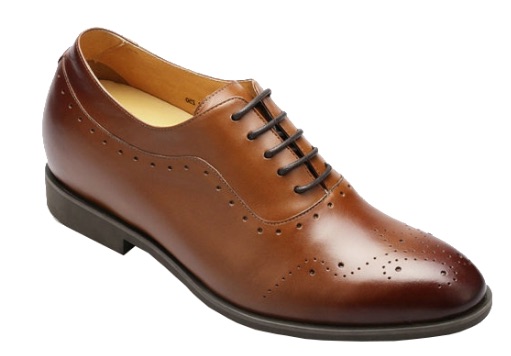 You can't go wrong with brown or black. Brown is a versatile color and is fit for most occasions. Meanwhile, black can hide the extra bulge that we talked about earlier. It's a win for you either way.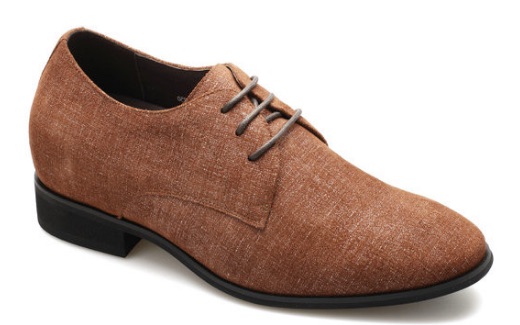 Remember we talked about wearing these shoes for special occasions. Reflect on the events that you need to go and then pick the shoe that fits it. If you are planning to wear it to work, then replace your current work shoe for a similar type of elevator shoes.
If you're looking for a more casual design, I do recommend you to try them out in real life. I've not personally tried them to see how 'big' they actually are. Although I can say that they do look good based on what you can find on Tall Men Shoes. I'll definitely consider buying one and sharing my thoughts with you in the future.
Summing up:
I'm sure this can be a lot to take in. Don't worry. You'll be an elevator shoe aka height increasing shoe expert in no time. I recommend you bookmark this article to come back the next time if you need a blog post to guide you.
Since wearing these shoe lifts, I've not gotten any weird looks at all. Even my family didn't realize I was wearing one until I asked them about my shoes, which they told me looks good. I then proceeded to tell them that it was a shoe that has a heightened platform that made me taller. I guess no one would think I was taller since I look pretty much the same with an added advantage.
I'll sum this up and say: Taller men will probably make fun of you for wearing it, and that is because they probably have no use for it. But elevator shoes are totally okay!
Note: Some links shared above are affiliate links.