I love how people say "Do not judge a book by its covers". Or "Do not judge a man from his appearance". Well, as much as we hate to admit it, but we judge. Society judges. Try walking into a luxury shop wearing jeans, and then try entering the same boutique in a suit. I can bet that the sales person in the shop will treat you differently.
The same thing applies to society. Appearance matters and that is just the fact. And when it comes to appearance, that includes height, weight, your clothes, shoes, and everything else. Today, I want to talk about height. We live in a society where taller men are perceived as more attractive. And I remember I've seen quite a few studies claiming that taller men make more money. They have a higher status in the society.
And it is no shame in admitting that people try to hide their height. In the same way, we try to wear clothes that make us look slimmer and leaner, some people try to wear clothes that make them look taller. Wearing height increasing shoes instantly takes care of that problem. And Hollywood celebrities wear them two. One of the most popular celebrities openly admitting he wears height increasing shoes is Tom Cruise. Just take a look at his wedding picture with Katie Holmes. And then find some daily photo of him and Holmes.
What are height increasing shoes?
Before we get to the benefits of elevator shoes, let's explain what they are. In simplest terms, elevator shoes or height increasing shoes are shoes that have a thick section in the heel. The section is known as lifts, and those lifts attached to the bottom can make you look taller by 2 to 4 inches.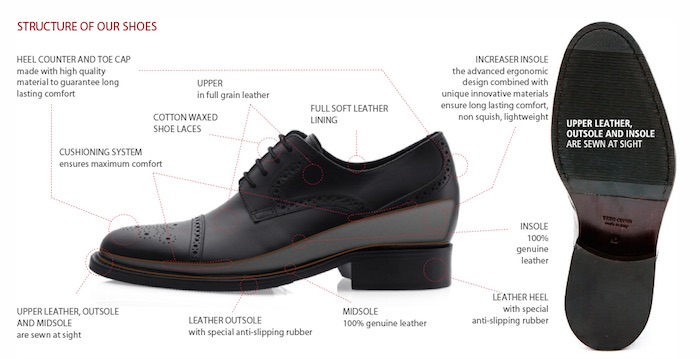 For height increasing shoes, the lifts are manufactured from different materials. Some of the common materials include rubber, wood, and plastic. We will discuss which materials to avoid, as well as how to find the perfect elevator shoes.
But as always, make sure that you are sourcing your clothes from well-known brands and reputable stores.
What are the main benefits of height increasing shoes?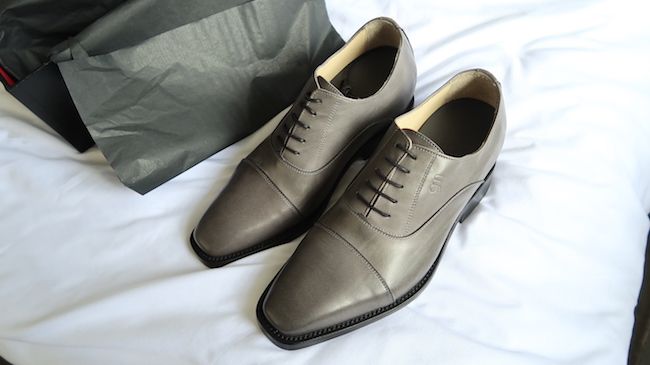 Now that you know what elevator shoes actually are, let's talk a bit about the benefits of wearing them.
First and foremost, the main benefit is that you will look taller. That is the primary reason men wear elevator shoes, and women wear high heels. As mentioned previously, elevator shoes will give you extra height, and people will perceive you as taller. You can increase your height between 2 and 4 inches

Height gives most men confidence. We live in a society where men are perceived as more attractive the taller they are. I do not know why, but people love to look down on you. And you can say that figurative and literally. When you look up to people, you usually have a lower level of confidence. Once you increase your height, you will see them on an equal level.
In addition to making you look taller, height increasing shoes improve your posture. You can walk straight, and stand with your shoulders square. Improving your posture immediately makes you look more attractive
Being taller allows people to pay more attention to your facial expression. And this will give you another arsenal in your behaviour. You'll notice that previously your facial expressions did not play a huge part in communication with other people. Now, they will notice your facial expression
And believe it or not, but height increasing shoes are actually quite comfortable. No other product for looking taller on the market is as comfortable as elevator shoes. Nothing beats being comfortable and confident in the same time
What to avoid when buying height increasing shoes?
As I mentioned previously, not all elevator shoes are good. There are some with better quality, and there are some that are low in quality. When it comes to choosing elevator shoes, here are some things you should pay attention to.
Avoid bonded leather, which is basically cheap and low-quality materials made by squishing scraps of leather. Bonded leather barely resembles real leather, and it is often marked as "genuine leather". Avoid that at all cost, as it is low quality and not comfortable. Not to mention, you might find yourself looking for new shoes after just a few months

Avoid boxy shape, which is often the standard for height increasing shoes. But if you want to find high-quality elevator shoes that will look like normal shoes, opt for a subtle design. Elevator shoes have a thick heel, which is often the result of their boxy shape. But try to find some with a better design. They are worth the price
Last, but not least, avoid the square too. Most elevator shoes have a square toe, which is definitely not a good look. You will make your height even more obvious with these shoes. Try to find gently tapered toe, which is more of a classic shape for shoes.
Should you wear height increasing shoes?
We are now getting at the actual question you probably have. With all the benefits of elevator shoes, you are probably asking yourself "should you wear them". In fact, should short men wear elevator shoes at all?
Some people view them as the "push-up bras of menswear". But do not take it personally. Why should you ignore anything that can make you look more attractive? Yes, we all want to find the beauty of the soul. But that cannot happen if your appearance is not good enough.
So, despite the marketing of elevator shoes, if you feel that you lack confidence and height, get yourself a nice pair of elevator shoes. Just make sure to avoid the ugly styles and designs. When you want elevator shoes, it is always a good idea to invest in quality ones you can wear for several seasons.