Picture this.
You're on a date with the woman of your dreams. You had a fantastic dinner with her and just when you're about to pay the bill you reach into your pocket and pull out…
…an ugly worn out VELCRO wallet.
Oh dear.
Imagine the impression your date would have on you now. Not a great feeling, eh?
We don't want that to happen to you.
Every man should invest in a proper wallet.
Not JUST any wallet though. We're talking about a good and decent leather wallet.
I don't know about you, but I prefer to keep my wallet slim yet functional.
Before we begin, we first need to understand the many different types of good and bad wallets out there.
The Different Types of Men's Wallet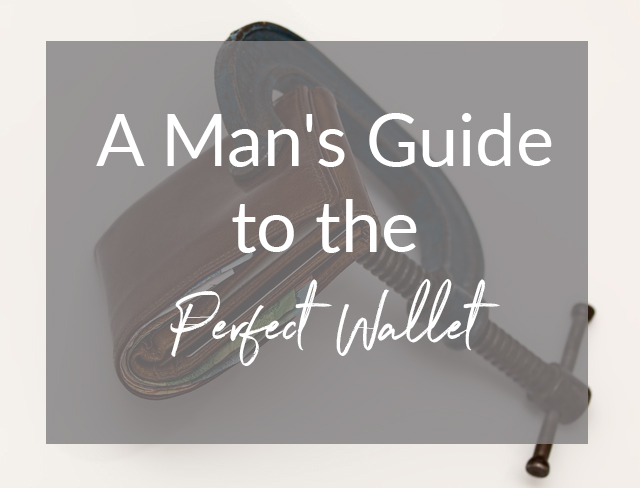 1. Sports wallet
Unless you're a ten and driving a mean supercar, then no!
2. Velcro wallet
Another big fat no.
Please throw the thoughts of owning a sports wallet or a velcro wallet. Those were NEVER in style. They shouldn't be near your house.
3. Bifold wallet
Folds in half. One of the most common types of wallets. YES.
4. Trifold wallet
Folds to the middle both sides. Go for it if it's slim!
5. Slim wallet
Yessssssss!
6. Money clips
Another stylish option.
7. Travel wallet
Useful when traveling.
From all the wallets that I've mentioned. I believe every gentleman needs to own at least two types of wallet.
For me, you need to have:
i. Bifold
A bifold wallet is thinner and therefore more comfortable in your pocket. A trifold tends to be thicker and looks ugly when you keep it. That bulge is not what we want to appear.
ii. A smaller wallet / money clip
A smaller wallet is useful when you're going out light or to an event and just want to carry essentials such as your ID and credit cards.
How to choose the perfect wallet?
We all have our own opinions about what makes a perfect wallet. For me, the perfect wallet has to be:
i. Functional
The wallet:
Holds a good amount of cash
Holds a good amount of cards
Is SLIM!
Is secure.
While we're at it, please don't put condoms in your wallet. (H: I'd delete this – a lot of men do. also doesn't add value to the article if the sentence remains)
ii. Stylish
You want to be proud showing it off.
Go LEATHER. I wouldn't go for polyester wallets because they aren't sexy, and they will absorb sweat which means they will stink after awhile.
iii. Quality
A good quality leather wallet can and will withstand the abuse of time. You'll only need ONE (H: consider removing this. you want people to have different brands and design. if someone reading this has a leather wallet already he might not buy another one). My last leather wallet lasted over 7 years.
iv. Value for money
Bigger doesn't always mean better. Expensive doesn't mean it's great! For me, the perfect wallet has to be affordable.
So, what is the perfect wallet?
From all the criteria we mentioned, I would recommend a plain leather bifold wallet. It's simple, attractive and functional.
Where to buy the perfect leather wallet?
Thankfully, Qazi Supply sent me two of my favorite types of wallets to review.
Jasim Qazi, the founder of The Qazi Supply Company, toyed with the idea when he was searching for a quality leather jacket online. After an extensive search; his options were limited low-quality imported products that were either too expensive or soulless.
That led him to travel all the way to Karachi, Pakistan, the international market known for their raw leather goods. Leather products from Pakistan are used in many industries from fashion to automotive.
His entrepreneur spirit got him to start Qazi Supply and to start supplying affordable leather goods for the market starting with wallets.
Qazi Supply Review:
As I mentioned, Qazi Supply sent me two different wallets to review.
i. Bifold wallet
Here's the wallet
What I think
This classic bifold is made for gentlemen. I'm going to admit it. Their leather wallet is one of the best-looking leather wallets I've seen in a while.
I LOVE its minimalistic design. Having a brash logo outside of the wallet would destroy that smooth and minimal appearance that I want. The best part about Qazi's wallet is that its logo can be found inside of the wallet.
With six credit card pockets, four side pockets and one main pocket to keep your cash. This wallet is the perfect wallet to carry all your essentials yet remain slim and elegant.
This wallet is ideal for:
Everyday daily use
Traveling
ii. Compact Bifold wallet
Review:
The compact bifold wallet is the child of the bifold wallet that I mentioned above. It's small yet it can hold everything you need. The wallet allows you to carry up to four credit cards. It also comes with a mesh ID window, not to mention a pocket for your cash.
The compact bifold wallet is probably my favorite slim wallet to date (I own a few). Qazi's wallet is very slim and pocketable.  The best part about the wallet is when you keep it, it just 'disappears'. It is perfect to be kept in your front pocket and therefore more comfortable for you when you sit. You won't feel it in your pocket.
This wallet is perfect for:
Dinner dates
Weddings
Movie nights
Travel
Summing up:
As I mentioned earlier expensive doesn't always mean better. It's important to spend your money wisely. Qazi Supply's leather wallets are a no brainer for anyone who wants the perfect leather wallet.